'They won't accept us': Roma refugees forced to camp at Prague train station | Ukraine
Prague central station seems a picture of normalcy amid warm spring sunshine and the return of legions of tourists, who had been largely absent at the height of Covid. On the quay one weekday morning, two German tourists gaze curiously at the statue of Sir Nicholas Winton, the British stockbroker who helped 669 mostly Jewish children escape from Nazi-occupied Czechoslovakia on the eve of World War II.
Yet, a few meters away, hundreds of Roma take refuge in the only place available since joining the millions of Ukrainians fleeing the Russian invasion.
Unlike other Ukrainians who were offered refugee visas, these families found they had nowhere to go and no one wanted them.
On the morning of the Guardian's visit, two small boys played unsupervised, dangerously close to the edge of the platform. Nearby, a young mother was asleep on a blanket as her toddler crawled over her.
The scene was symptomatic of a festering crisis that has unfolded in recent weeks, as hundreds of Roma refugees took refuge on the station floor and in a makeshift sleeper train that only docks between 9 p.m. a.m. and 5 a.m., in what emergency workers say are dangerously unsanitary conditions.
More than 500 people are crammed each night into quarters originally planned to accommodate 260 on a single night basis. Some stayed up to 10 nights.
Volunteer aid workers say they are overwhelmed and overwhelmed. "This is the most important situation in the Czech Republic," says Geti Mubeenová, crisis coordinator at the Organization for Aid to Refugees (OPU).
Along with other volunteer groups helping at the station, OPU plans to end work there at the end of the month in a bid to pressure the government to provide more suitable accommodation.
"We were set up to provide information, but now we are facing a humanitarian crisis. It is no longer sustainable," says Mubeenová.
Out of sight of ordinary passengers in a gated area of ​​the ornate Habsburg-era station, Roma families – mostly women and children, some elderly and disabled – sit and lie, surrounded by bags belongings and protected by security guards, many of them also Roma.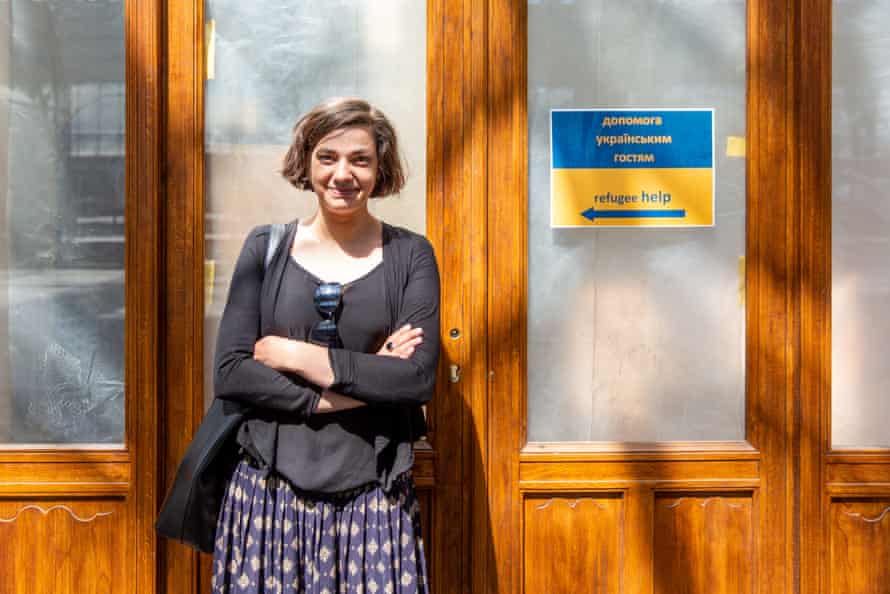 Many are waiting for the Czech authorities to decide on their status and whether they are eligible for permanent housing; others are in an even worse situation.
"We tried to register for refugee protection at the registration center, but they didn't accept us and didn't give us any documents explaining why," says Zanna, a teenage mother of three from Kyiv, who says arrived in Prague. with his family four days earlier.
"We came here looking for a place to stay, but instead we just lay on the ground like dogs. We are exhausted and have no more energy. I feel really hopeless.
This is a typical story of the arrival of many Roma, aid workers say.
Since Vladimir Putin ordered Russian troops to invade Ukraine on February 24, the Czech Republic has issued around 350,000 temporary protection visas to refugees.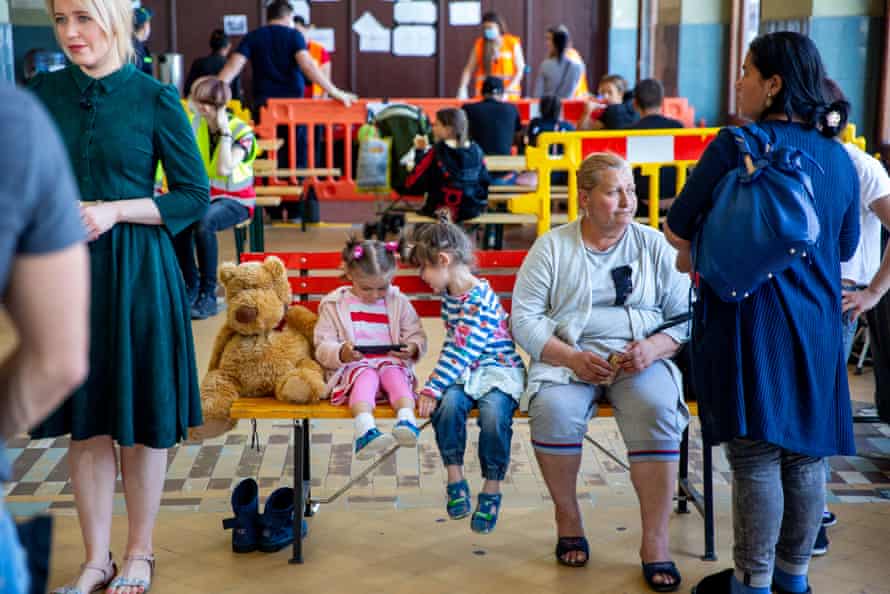 Many Roma suffered a different fate, driven – according to Mubeenová – by widespread anti-Roma prejudice in the Czech Republic and neighboring countries. Many Roma who left Prague for Germany returned later, she said, including some who reported that police in Dresden refused to allow them to disembark their train.
Czech officials say many of the Roma who arrived do not qualify for refugee status because they are EU citizens holding dual Ukrainian and Hungarian nationality – thanks to a policy adopted by Hungary's prime minister, Viktor Orbán, in 2011, of offering citizenship to ethnic Hungarians in the Ukrainian region of Transcarpathia.
Some of the Hungarian passport holders claim they were bribed to request the documents, not understanding the consequences of dual nationality. Several told the Guardian they left the Czech Republic for Budapest to return to Prague after Hungarian authorities rejected their passports as fake.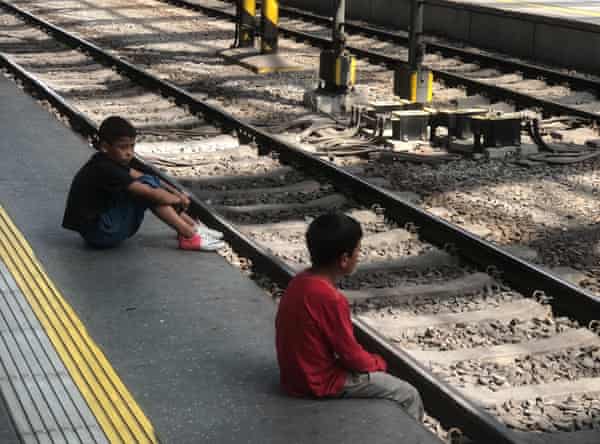 Holding EU citizenship protects them from deportation under Schengen rules while offering freedom of movement between member states – but it also potentially leaves them in limbo when states are not obliged to provide a housing under protected status arrangements.
However, Mubeenová says that only a fifth of the station's current inhabitants have Hungarian nationality. The fate of others, who often face obstacles in submitting applications or even entering registration centres, reflects the hardening of official attitudes that view Roma arrivals as bona fide refugees.
Vít Rakušan, the Czech Interior Minister, claimed that the influx of Roma was linked to organized crime and spoke of the need to combat "social tourism".
Mubeenová says: "I attended meetings with representatives of the Prague City Hall, the police, etc., and I noticed that the discourse was changing – people stopped talking about refugees and started talking of "economic migrants" and "social tourists".
"Representatives have told me they don't have the necessary documents to apply for protection, but often they don't even have the right to submit applications and it's not legal."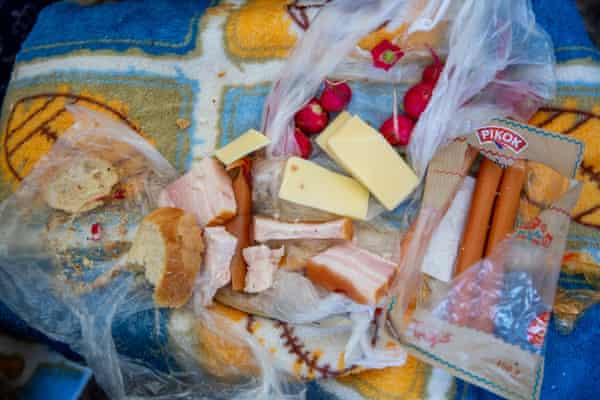 A spokesperson for the Czech Interior Ministry – which is responsible for processing refugees – said people at the station who had applied for temporary protection were entitled to state-provided housing, including in a " tent city" recently established in the district of Prague. of Troy.
"It happens that some people refuse this offer and return to the main station. However, there are also people staying at the station who are not entitled to temporary protection or who have not applied for temporary protection at all," he says.
"When an application for temporary protection is submitted, an assessment of the eligibility of the person concerned is carried out, in accordance with the legislation in force. If the applicant is found to be a citizen of another EU Member State, temporary protection cannot be granted.
The increasingly dire situation at the station led to cases of chicken pox, measles, hepatitis A, lice, scabies and tuberculosis being reported by medical students working as volunteers. Firefighters disinfect the premises three times a day.
Hygiene restrictions prevent aid agencies from distributing hot, cooked food. With no regular meals, many refugees leave during the day and travel to downtown Prague, where some resort to begging.
Jan Vágner, the station building manager, describes the current situation as "more difficult" than at the start of the refugee crisis, when more than 5,000 people disembarked trains from Ukraine.
"Even though the numbers are much lower now, we need to talk to them all individually and work closely with them, but we don't have the right kind of help," he says.
Amid the chaos, however, one man has a relatively happy story. Slender and wearing a white cap, Heorhii Stan, 37, from Odessa, was about to travel to Vienna with his four children to pick up his wife after successfully applying for protected status in the Czech Republic.
His relief was heightened by spending four nights at the train station, an experience he described as 'harsh and hopeless' before being moved to a remote refugee camp usually reserved for Roma in the forest from Bohemia. "I really want to fit in here and make sure my kids go to school," he says. "And I want to work."
Sign up for a different perspective with our Global Dispatch newsletter – a roundup of our best stories from around the world, recommended reading and our team's thoughts on key development and human rights issues, delivered in your inbox every two weeks: