Prague introduces a chatbot for Ukrainian refugees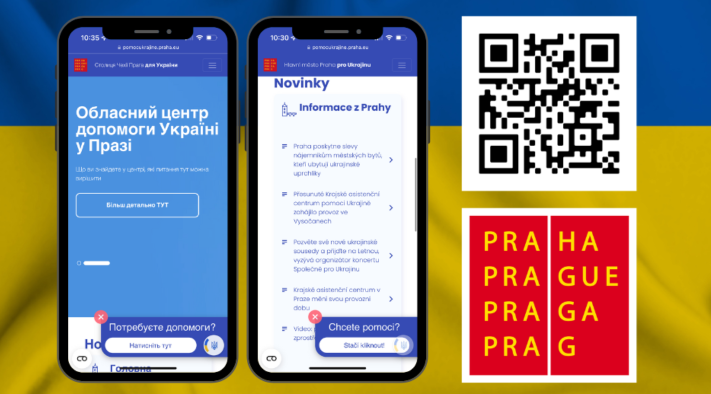 May 10, 2022
by Sarah Wray
Prague won a European first with the launch of a chatbot for Ukrainian refugees.
The chatbot is designed both for people who want to offer help and for those fleeing war and arriving in the Czech Republic and Prague. It answers common questions and provides information on what to do upon arrival, available support and resources related to housing, employment and education.
The tool is available in Czech and Ukrainian and has been translated by volunteers.
"I would like to thank all the performers who selflessly participated in the creation of the project," said Zdeněk Hřib, Mayor of Prague. "This solution will help refugees navigate a difficult life situation and save time not only for volunteers, but also for employees of the integrated relief system."
The chatbot was created with a Czech company called Sefbot.
To date, 80% of chats have been started in Ukrainian and about half on a mobile device.
The chatbot also includes an anonymous questionnaire, which will be used to improve communication.
The Czech Republic has so far granted more than 328,000 emergency visas to Ukrainian refugees.
Digitalization continues
There have been several examples of digital tools being adapted to respond to war.
Ukraine's Ministry of Digital Transformation recently spear a new digital service allowing individuals to register as an "internally displaced person" (IDP) and request emergency assistance.
The service is part of Diia app – a mobile application launched in 2020 to allow citizens to store official documents.
Deputy Prime Minister and Minister of Digital Transformation Mykhailo Fedorov said thousands of people have been forced to leave their homes and move to other cities due to the war.
He commented: "Now Ukrainians no longer need to go to public institutions with documents to register. After all, everything can be done simply on a smartphone on the Diia app without unnecessary bureaucracy and paperwork. The service will be provided automatically, without human intervention. Therefore, requests will be processed very quickly.
"Even during the war, digitization in Ukraine continues. We continue to launch new services, needed by both military and civilians," he added.
The Ukrainian government pays displaced people a monthly allowance, which can be requested through the app. They will receive 2,000 Ukrainian hryvnia ($66) per adult and 3,000 Ukrainian hryvnia per child or disabled person.
Carry app to survival tool
In the Ukrainian capital, the Kyiv Digital app that was once used by locals to buy transport tickets and pay for parking quickly transformed into a tool that warns of possible air attacks, maps the locations of bomb shelters bombs, medical supplies and working gas stations, and shares information on how to support the military.
The application is currently used for electronic voting on renaming streets and squares that have titles associated with Russia. Residents are verified via BankID.
In other initiatives, mobile data was used by Kyiv's digital team to determine the best way to ration food and they also worked with internet service providers to get Wi-Fi to bomb shelters.