PM receives Rumlar as Prague envoy prepares to leave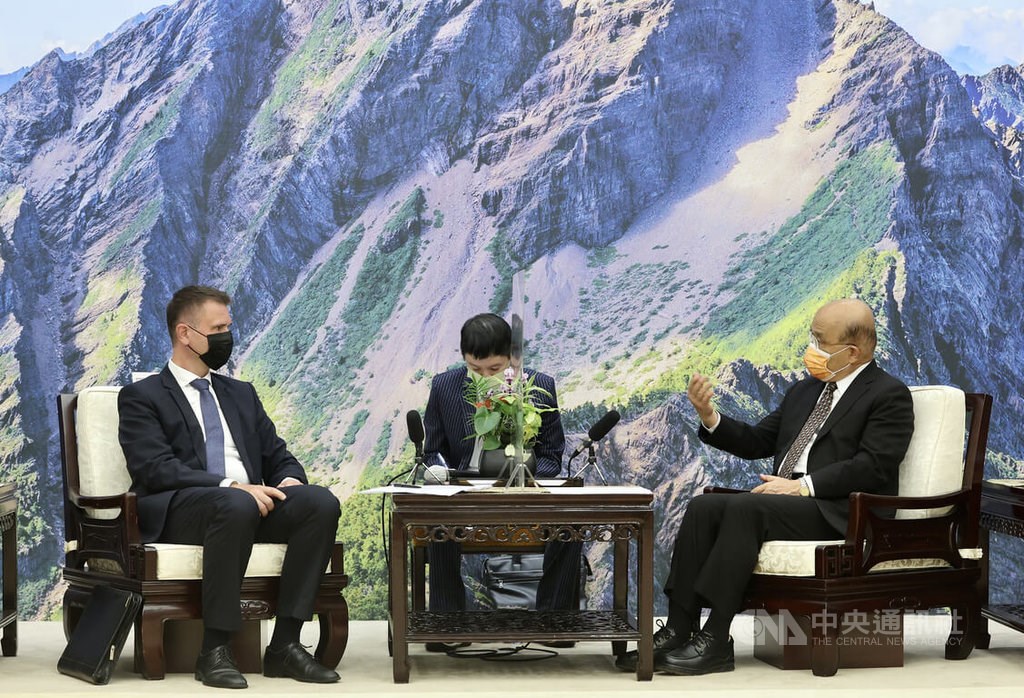 Taipei, July 11 (CNA) Prime Minister Su Tseng-chang (蘇貞昌) received the outgoing Czech representative in Taiwan Patrick Rumlar on Monday, the diplomat soon to conclude a four-year stay in Taipei.
During the meeting, Rumlar, head of the Czech Economic and Cultural Office in Taiwan, said that over the past four years the partnership between his country and Taiwan has grown, and after his departure he expects to see bilateral cooperation develop in areas such as trade, tourism, artificial intelligence and forest management.
In particular, Rumlar said, he will continue to push for direct flights between Taipei and Prague, as this is essential to strengthen bilateral collaboration.
In turn, Su thanked Rumlar for his efforts to establish bilateral relations during his tenure in Taiwan, and wished the envoy success in his upcoming post as head of Asia-Pacific affairs in the Czech government.
The Prime Minister also praised Rumlar for helping to realize a 2020 visit to Taiwan by Miloš Vystrčil, Chairman of the Czech Senate.
As the Russian-Ukrainian war drags on, Su said, Taiwan, the Czech Republic and other like-minded countries should help Ukrainian refugees and fight together for freedom, peace and democracy.
He also thanked Czechia for supporting Taiwan's bid to participate in international organizations, such as the World Health Organization, and for passing a bill to support such efforts.