Flights from Oman to Phuket, Prague announced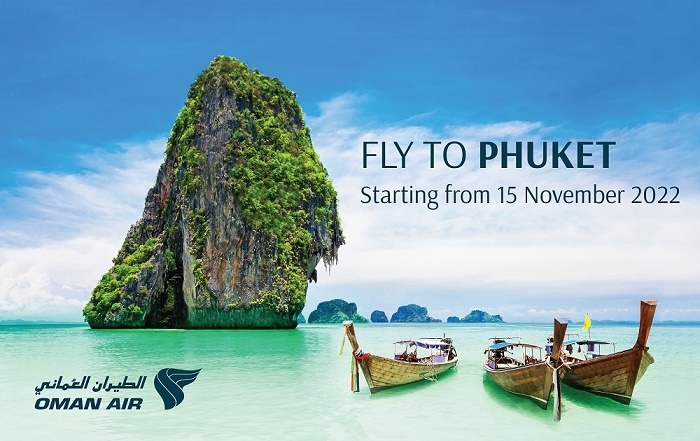 Muscat: Flag carrier Oman Air will launch flights to Phuket while SalamAir will operate direct flights to the Czech Republic in November 2022, the airlines announced on Monday.
In a statement, the national airline of the Sultanate of Oman will offer four flights a week between Muscat and Phuket, one of Thailand's most popular tourist islands, from November 15, 2022.
Flights will operate on Tuesday, Thursday and Saturday.
Economy class fares will start at OMR 299 and business class at OMR 650 including tax. "Customers traveling to Muscat and Phuket should ensure they are aware of the official requirements for entering or transiting the country," the airline said.
SalamAir, has also announced direct scheduled flights between Oman and Prague, the fantastic capital of the Czech Republic, from Muscat and Salalah. From November 4, SalamAir will fly twice a week to Prague.
The historic center of Prague is on the UNESCO World Heritage List and is considered one of the most beautiful cities in Europe. "The magnificent city offers everything that makes for a fascinating vacation, from unspoilt island destinations to enchanting lanes, magnificent cathedrals, picture-perfect art galleries, spectacular bridges and much more. A vibrant modern metropolis, Prague is considered one of the most beautiful cities in the world," the airline said.
Offering the perfect opportunity to take the trip of a lifetime to the ultimate "city of a thousand spiers", SalamAir flights to Prague are scheduled every Friday from Muscat and every Wednesday from Salalah.
The carrier, which operates a fleet of modern A320neos and A321neos, has chosen the Czech Republic as its second destination in Europe. The new destination for its network marks the airline's continued expansion in Central Europe. SalamAir is confident that Prague will appeal to a wide range of holidaymakers looking to satisfy their wanderlust.
Captain Mohamed Ahmed, CEO of SalamAir, said: "We are very happy to connect Oman with the capital of the Czech Republic. The new connection creates an excellent opportunity for the citizen of the Czech Republic to explore the warm climate of Oman and visit one of the most popular sites in Muscat and Salalah.
Jaroslav Filip, Aviation Commercial Director of Travel Marketing International, GSA for SalamAir, said: "The connection between the Czech Republic and Salalah in Oman clearly has strong tourism potential. In addition, in the case of the direct Muscat route, we can also see its commercial potential, and the possibility of transfers to more distant destinations in the Middle East and Asia.
"We expect SalamAir to carry up to nine thousand passengers in one direction between Oman and the Czech Republic during the winter operational season. Until now, destinations in Oman were mainly operated from Prague by seasonal charter flights. The journey between the city of Prague and Muscat will take approximately six hours and fifteen minutes.