CHK + mecanoo imagined the Prague Philharmonic Hall as an urban ribbon
entry by chybik + Kristof and mecanoo
CHYBIK + KRISTOF + Mecanoo unveil the competition application for the Vltava Philharmonic Hall in Prague. The team, which has offices in Prague, designed the project to meet 21st century standards for symphonic music concerts, with the development of modern construction and the exceptional acoustic design of the halls, the proposed building meets the need of an integrated cultural and social center that complements Czech history and culture and simultaneously meets the contemporary needs of the city.
While the winner of the competition was eventually announced to be Bjarke Ingels Group (see designboom coverage here), architects CHYBIK + KRISTOF are currently working on the nearby Ostrava Tower, which will become the tallest skyscraper in the Republic. Czech.
image © Mango Shake Studio
an urban ribbon for prague
The design of the Vltava Philharmonic Hall by CHK (see here) and Mecanoo (see here) integrates the theater into the existing landscape of Prague. creating a seamless urban implementation. By articulating the active part of the building program towards the urban environment, the architects propose a diverse mix of public urban spaces, including a transformed waterfront, a square, a courtyard and a newly shaped boulevard, aligning with Prague's unique topography and ensuring long-term economic sustainability and business development.
The "urban ribbon" envelops two separate cylindrical-shaped rooms and forms an open-air amphitheater, connecting the hall and the open stage for cultural events. Located to the right of the Vltava quay, the main hall offers a unique visual experience to its visitors and, with its structural engineering concept, enhances the experience and the quality of the architectural scheme.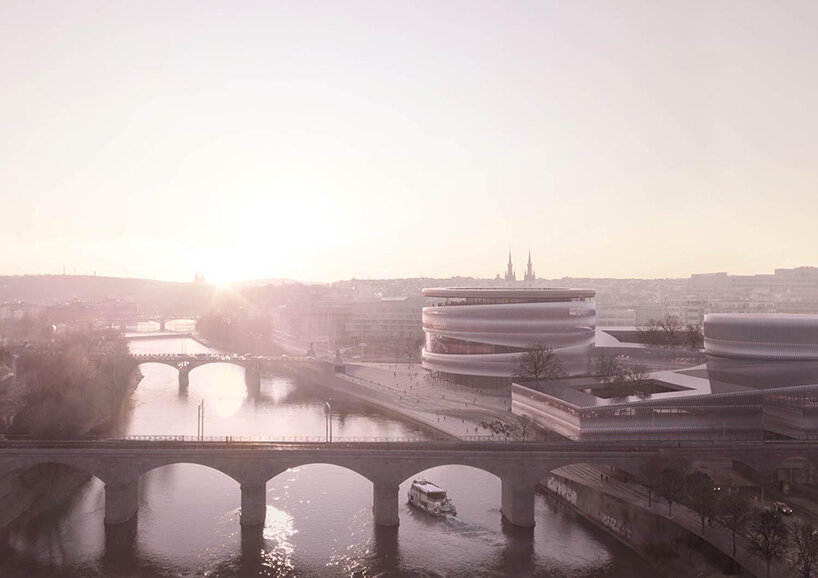 image © Plomp
inside the proposed Philharmonic
The five-storey main Prague Philharmonic Hall by Mecanoo and CHK is composed of the stage level of the main hall, its balconies and the foyer. This space supports a panoramic roof with a restaurant and a bistro open to the general public. The second, smaller room is deliberately located out of sight of the dominance of the church steeples responding to the HOLKA footbridge for pedestrians. A uniform urban carpet connects the site to its surroundings, creating a maximized pedestrian public space.
Emphasizing the combination of wood and the glass facade as a material, the room stands out for its acoustic concept, designed by Nagata Acoustics (see here), one of the best acoustics in the world. The architectural form of the building reinforces the perfect acoustic instrument as the large hall creates a clear transmission of sound from the performers to the audience by manipulating the dimensions and interior shaping of the space.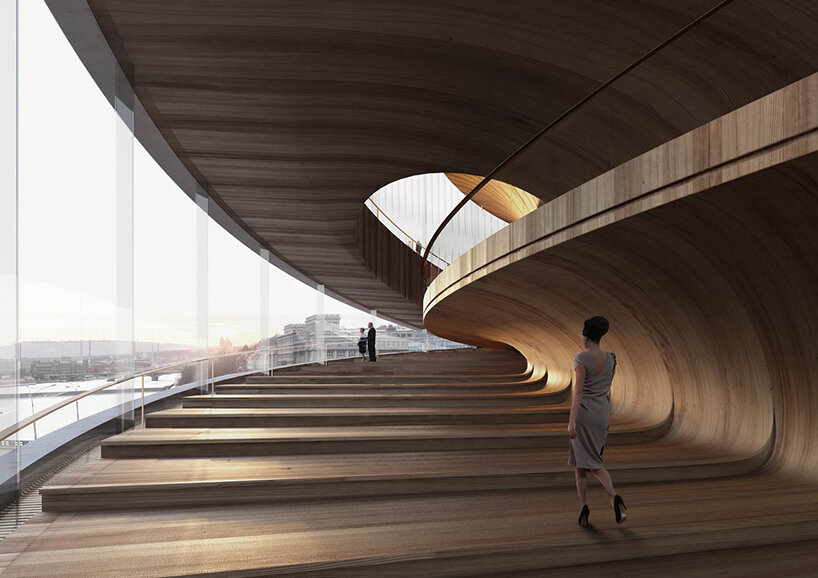 image © Mecanoo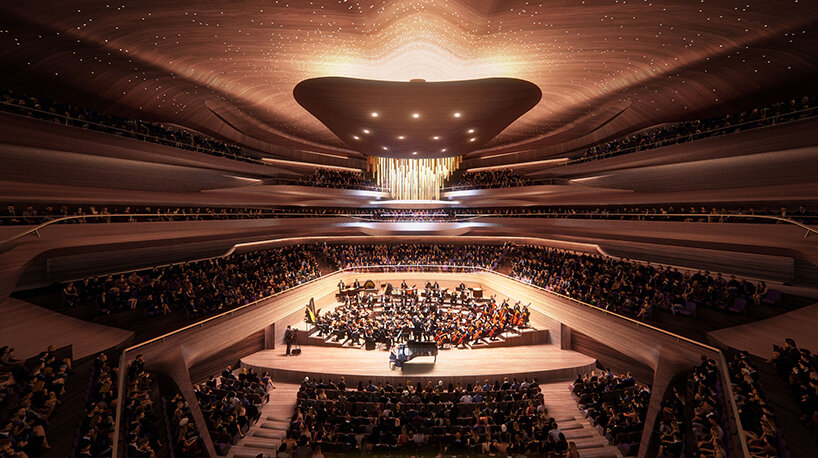 image courtesy of Mecanoo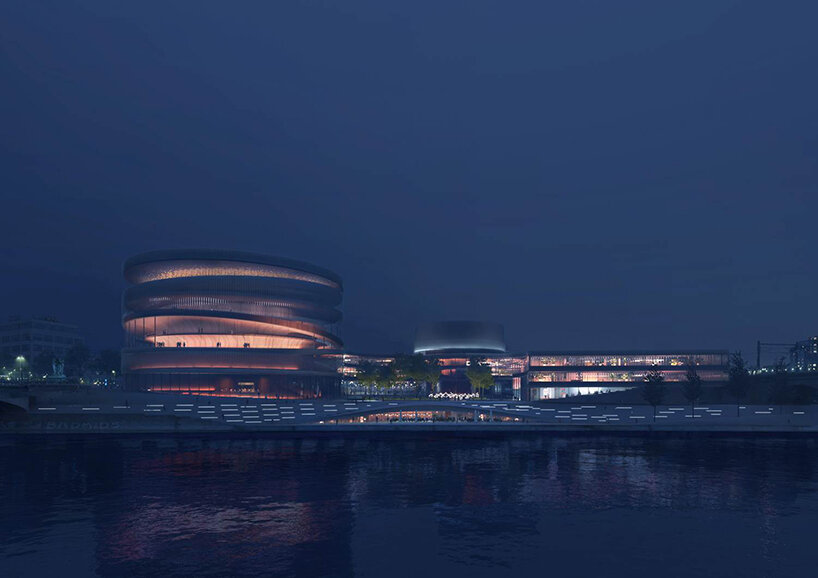 image © Plomp